Hawaii Scuba Diving Site locations Honolulu Hawaii
808-224-7857
Honolulu, Hawaii
Hawaii Scuba Diving Site location and Description Hawaii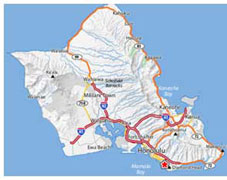 Oahu, Hawaii the "gathering place" is home of world class Hawaii scuba diving fish and marine life. From a Hawaii scuba diver's perspective, Oahu has four distinct regions. We are pleased to provide the best diving in Hawaii! Each location also has different Hawaii scuba diving site advantages and disadvantages as well.
We welcome responsible Hawaii scuba diving practices and education. Make an informed decision choosing the best Honolulu dive sites with Rainbow Scuba Hawaii as your dive guide professionals!
Hawaii Scuba Diving Sites on Oahu's South Shore
The Honolulu South Shore location provides us with two of the best Hawaii Scuba diving sites on Oahu, the YO-257 shipwreck and the Sea Tiger shipwreck. Your drive from Waikiki hotels to the Kewalo Basin Harbor only takes about 10 minutes.