Horseshoe Reef, Hawaii Scuba Diving Site
808-224-7857
Honolulu

,

Hawaii
Hawaii Scuba Diving, Horseshoe Reef Dive Site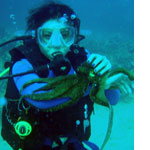 This is in fact a double horseshoe formed reef scuba diving location in Hawaii that lures numerous marine life to it.
Hawaii green sea turtles, trigger fish and Hawaii octopus are normally discover whilst scuba diving this particular area. Maximum depth is 40 feet.
Hawaii Scuba Diving Video, Horseshoe Reef Dive Site
video of scuba diving on the Horseshoe reef in Honolulu, Hawaii.