San Pedro Shipwreck Honolulu Hawaii 96815
808-224-7857
Honolulu

,

Hawaii
Shipwreck Scuba Diving Hawaii, San Pedro Honolulu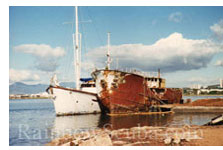 San Pedro Shipwreck:
The San Pedro was built around approximately 1946 in Japan. She was a commercial fishing ship off of the Big Island until about 1975 when she caught fire. Then she sat for about 15 years in various places around the islands until she sank in Keehi lagoon.

The state of Hawaii sold the ship to Atlantis submarines for $1 plus reimbursement for clean up costs. Total cost of sinking her was about $360,000.
SCUBA Shipwreck San Pedro, Honolulu Hawaii
The San Pedro was sunk in 1996, however every big storm that comes through moves her location around a little and further damages it. Checkout our PADI scuba Wreck Diver for even more instructional information about scuba diving on this shipwreck.