Underwater Camera Rental Services in Honolulu, Hawaii 96815
808-224-7857
Honolulu, Hawaii
Rental Service for underwater digital cameras in Honolulu, Hawaii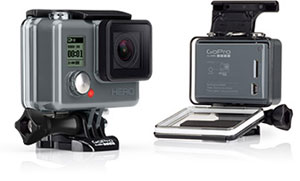 Although We do take Free Underwater Pictures for you on your Hawaii scuba diving tour,
We also offer you the ability to rent an underwater camera from us.
Enjoy our new underwater camera rentals in Hawaii with RainbowScuba of Honolulu, Hawaii.
The GoPro entry-level Hero camera is its least exciting to date, but that's kind of the point. It's a no-frills action camera that emphasizes simplicity and ease-of-use over raw power, and it bears an equally no-frills name: Her
Enjoy taking your own digital underwater pictures in Honolulu, Hawaii.
We rent premium quality Hawaii underwater cameras in addition to Hawaii scuba diving equipment. We test each individual GoPro underwater digital camera rental item prior to it being used and again once its returned back. When you rent a underwater digital camera from us here in Hawaii, you'll be ready to start taking pictures without delay.