Hawaii Scuba Diving - ***
808-224-7857
Honolulu, Hawaii
Hawaii scuba diving charters in Honolulu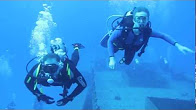 Enjoy a memorable day out in the Hawaiian waters with Rainbow Scuba Hawaii. We specialize in scuba diving with small groups for VIP treatment of all our guests!
For the certified scuba divers we offer a shipwreck/reef excertion, the ultimate dive adventure here in Honolulu. With two exceptional shipwrecks to choose from on Honolulu's south side, the Sea Tiger or YO-257 followed by a reef dive site.
Even if you are not experienced in scuba diving you may still choose our first time diver tour. A great diving experience for the entire family encountering several species of native Hawaiian fish, green sea turtles and white-tip reef sharks!