We offer the best scuba diving tours in Honolulu, Hawaii. We feature beginner first time scuba diving, PADI scuba certifications and in addition shipwreck exploration dives.
Scuba Diving Prices
are the lowest in Hawaii! Try scuba in Honolulu and above all, conclude for yourself why diving with Rainbow Scuba Hawaii is amazing!
First Time Beginner SCUBA Diving in Honolulu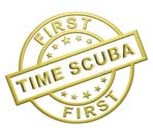 First time scuba diving in Hawaii. Have you always wanted to try Honolulu scuba diving? Experience the Discover Scuba dive tour in Hawaii! No prior experience is required to go scuba diving in Honolulu today! Our introductory scuba lessons will enable you to enjoy diving safely to a depth of 40 feet. Our scuba instructors will guide you on two dive sites for approximately 30-50 minutes on average. Try our Honolulu Scuba Diving Tour for only $129.99
First Time Scuba
Our Latest Charter - Scuba Diving In Oahu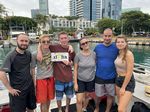 Our group today set out from the Kewalo basin harbor to try scuba diving in Honolulu. Honolulu's warm tropical waters are ideal to try scuba diving for the first time. Beginner scuba dives do not require any prior experience! You can be as young as 10 years old and safely try scuba diving in Honolulu. Our Small group size and private boat tour option ensure your safety and enjoyment!
Why SCUBA Dive with Rainbow Scuba Hawaii?
Our certified divers will definitely enjoy exploring on incredible
Shipwreck Dives
We often are asked about our Honolulu scuba company or dive shop in Honolulu. As the owner/operator of our Oahu dive boat, we limit our group sizes to no more than 6 on-board. It's a unique dive boat in Honolulu because of this. Most boats bring out group sizes of 20 - 30 on-board. Why dive with a Honolulu scuba company that doesn't own a boat or uses a cattlemaran jammed full of 30 divers? Smaller size groups equate to increased safety and greater fun!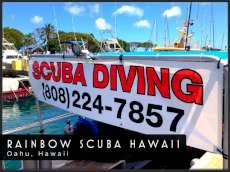 Our PADI Instructors have been scuba diving in Honolulu seven days a week for over 20 years! Local knowledge of the Hawaiian dive sites is crucial if you want to encounter marine life. Most importantly, our experienced instructors have a 100% Safety record, ensuring a safe, fun underwater adventure in Hawaii.
Our Honolulu dive shop only offers First time scuba divers,
PADI Scuba Courses
and incredible Oahu scuba diving tours. In conclusion, by working from our private dive boat and not a true dive shop, we ensure you the lowest Hawaii scuba diving cost and pressure of buying scuba gear.