How old to SCUBA dive in Hawaii
808-224-7857
Honolulu

,

Hawaii
Hawaii SCUBA diving Requirements: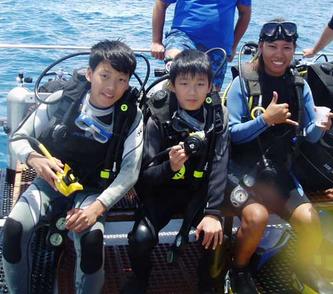 Scuba diving is a fantastic ocean activity for the entire family while on your vacation in Hawaii. It involves outside exploration, exercise and great vacation memories. Similar to hiking in the jungle, everyone in the family may participate but is truly dependant on the desire to explore underwater.
To best determine if your child is ready to dive, ask yourself these questions:
Does the child want to scuba dive?

Is the child medically fit to dive?

Can they swim and most importantly are they comfortable in the ocean?

Do they poses a sufficient attention span and ability to listen to a detailed instructors briefing?
SCUBA diving age requirements:
Children Ages 12 to 14
Your child aged can try diving on for fun with PADI Discover Scuba. They may also choose to participate in the Junior Open Water Course. With this restricted certification, upon completion they can dive to 12 m / 40 ft with a certified adult diver. The Junior Advanced Open Water Course is next, and kids can earn specialty ratings in interest areas like Night Diving and Underwater Photography. Responsible Jr. AOW divers with PADI Medic First Aid, or equivalent first aid certification, can take the Jr. Rescue Diver Course. With this certification, 50 logged dives, and 5 specialties, kids can earn the coveted Junior Master Scuba Diver rating.
Teens Ages 15 to 17
At age 15, all Junior-level certifications may be converted to their adult equivalents. Teens aged 15 to 17 may take non-pro level PADI courses and share the same standards and limitations as adult divers. Teens aged 15 and older may take non-pro level PADI courses, and share the same standards and limitations as adult divers.